hightime deathmatch+ servers, open to all, are dedicated to fragging your friends 24/7
our four-core blade is located in pennsylvania, usa
more info at our official forum thread
source code at gitlab
russian + english

♩♪♫ мµѕιcgoαт ♫♪♩ was here

---
almost lost by id
---
encore by cortez
this map sports several rooms with unusual layouts, connected with branching hallways. thanks to the five star visual design, moving around is incredibly fun. as you pick up speed, you also have to confront the pixel-perfect topography, and timing your jumps can sometimes make or break your game. slated 1v1 or 2v2, this map is also perfect for a mid-sized free-for-all.
---
---
---
---
radical proverb, aka abandoned by -z-
devised by -z- back before ctf took complete possession of that soul, this map is a gnarly knot of pure action braided with platforming layout which requires ibex-like footwork to stay alive, and explodes with jet pack-assisted chaos as soon as the player count hits 4.
---
a fantastic beauty suspended over a gorgeous sunset in the upper stratosphere. this largish futuristic platform will push you to be alert at all times, and you will find that it's much easier to go down than up.
---
---
aggressor remake by kevin "tyrann" shanahan,
paul evers, fruitiex, nifrek, and mario
a faithful remake of the dynamic oa mosh pit, great for duels and up. it feels a tad more compact, and yet more spacious at the same time, thanks to the see-through portals extending the line of sight. sparkling with polish, this map breathes new life into the old arena.
---
---
---
---
---
blood run by ztn
---
breath by debugger
this map features flawless layout combined with spot-on texturing and simple yet refreshingly cute interior design. taken together, these qualities put this compact map at the very top of any ffa list.
---
---
---
checkmate by julius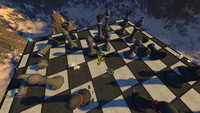 ---
---
---
---
---
---
---
---
monastery at night by adam "czestmyr" vojtech
this openarena classic features many highly connected rooms of every size, including a spacious courtyard with an assassin's perch
---
dark chapel by id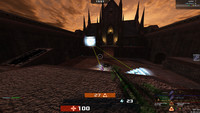 ---
---
fatal instinct by id
---
---
---
---
null and void by fxd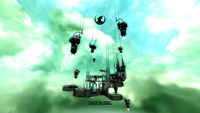 this maps is large, wide open, and full of that windy breezy feeling. it is an absolute riot for anyone who likes to move in all 3 dimensions and rain the justice from up high. the balance is superb: the line of sight is deftly splintered by force fields, and the only vortex on this map is the massive cyclone beneath.
---
---
downer by cortez
a beautifully laid out 3d labyrinth that makes you feel anything but claustrophobic.
---
---
---
---
---
---
---
---
estatica by cardigan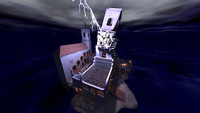 ---
evilspace remake by cortez & fruitiex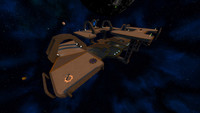 ---
---
---
---
a lush forest, a mysterious temple, and now, thanks to julius, the secret heart of the mountain can be revealed to those who dare to meet the challenge
---
---
---
---
gasoline powered by fruitiex, kid, mario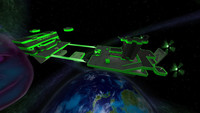 this pack contains 4 maps, suited for 0, 1, 2, and 3 teams
---
geo core by q
---
---
hell's gate by id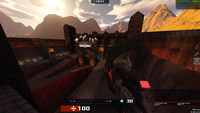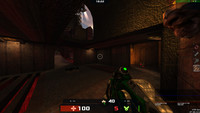 ---
hell's gate redux by id
---
---
---
aerowalk by preacher
first created for the original quake, aerowalk became an instant hit upon its release in 1997. its popularity has spawned numerous remakes for quake derivatives, and has made frequent appearances in tournaments. this remake comes from a quake 3 mod named challenge pro mode arena, map "cpm22". aerowalk favors a fast, rushed strategical and technical approach, has a lot of control points, and rewards utilization of teleporters for shot placement.
---
---
---
---
---
---
---
jasm by cortez
an ultra-compact space platform with multiple levels, clever catwalks, and an auxiliary floating island of camping doom
---
---
farewell laserfuck by tymo, dev0, julius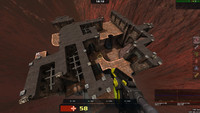 ---
---
---
---
---
---
luminar by debugger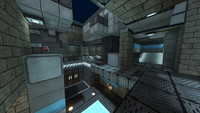 a mid-sized map that spots layout like no other, breaking out of the grim mold with crisp teal textures.
---
---
prospect by akuma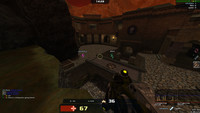 ---
---
mental gap by nodenum
a highly symmetrical platform sequence with powerful jump pads closing the loop. intended primarily for team play, this map is just too pretty to pass up: its clean-and-easy see-through layout is balanced out by numerous obstructions, both tactical and strategic, and the vortex situation which can only be described as enigmatic.
---
---
---
---
---
---
shine by henke "stjartmunnen" bjork
converted by bartuc, this is a darker and more sinister version of the openarena original, with rebalanced weapon placement and a mega health. the pillars create an illusion of wide open rooms, even though there are hardly any walls, and ultimately turn this map upside-down, making it more tempting than ever to move around via gravity defying hops. in stark contrast to its name, this map's darkened underpasses and pale green palette will likely instill a feeling of unspeakable horror in some players: think a ring wraith riding a cthulhu in the abyss beneath your feet.
---
---
---
---
---
deschutes by random
---
---
bitter embrace by mr. clean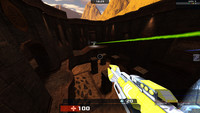 ---
---
charity bell by jalisc0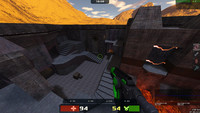 a tourney edition of the chastity belt duel (orange remix)
---
---
---
phrantic by id, cortez remake
a duel-sized compound with clean lines and the layout executed to perfection. the deceptively simple design creates a deep feeling and an amazing, instantly recognizable atmosphere seemingly out of nothing.
---
---
---
---
---
---
---
---
---
---
---
---
---
---
---
---
quark by spike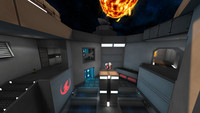 ---
---
---
---
---
---
place of many deaths by id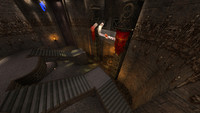 ---
forgottent place by id
---
temple of retribtion by id
---
vertical vengeance by id
a quakelive classic with a dynamic terraced layout and a central hub, great for duels and up
---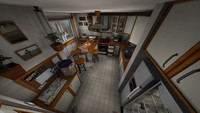 the screenshot explains it all
---
just another space floater by revenant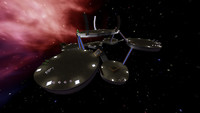 ---
---
---
---
---
---
---
---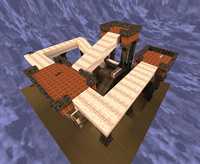 ---
---
---
space camp by id
a deviously scrambled timeless classic, furnished with all the standard weapons, even the crylink, for those lucky enough to discover its secret.
---
---
---
---
---
---
---
---
---
---
the yard by cortez
the longest yard remake 2 kill 4, enough said.
---
---
---
---
---
---
---
tuhma by smilecythea
a fun cozy map with hilarious textures, a bit unforgiving when it comes to free space, but cleverly tangled. it features risque themes, and is mildly offensive to crylink fans (crylink itself not included).
---
vinegar by spike
---
---
---
x-apocalypse by pink robot, converted by leeloo
an island in the sky, where jaw-dropping vistas frame the well-rounded platforms adorned with exquisite detail. the layout is both unique and incredibly appealing, and will put your inner tactician to the test, as you keep marveling at how different everything looks, depending on where you happen to be.
---
---
---
---
castle beta 2 by cortez
this is a craftful and inspired remake of yago's castle (outside). cortez adds much-needed depth and flourish to an already well balanced classic ctf arena. though still in beta, this map has the promise of a masterpiece.
---
egg'n'scrambled by aa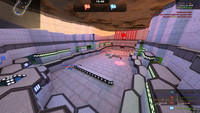 old ctf classic, reheated for your consumption
---
---
---
---
---
---
---
---
---
---